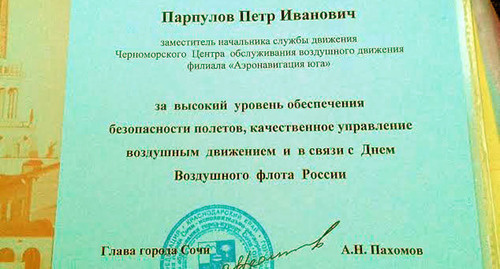 16 February 2015, 06:50
Sochi resident accused of treason cannot see his relatives for a year
Relatives of Pyotr Parpulov, an employee of the Sochi Airport, detained last March on suspicion of treason, could not meet him since then. His advocate Oleg Eliseev said that his client would not plead guilty and seeks rehabilitation, the "Caucasian Knot" correspondent reports.
"I haven't seen my father for almost a year; and judging by his state of health, namely, his serious heart problems and a number of other diseases, I might never see him again. The investigator, whom my mother called, said that neither I, nor his relatives would get a chance to visit him, because he refuses to plead guilty," Yulia Parpulova, 25, Pyotr's daughter, told the "Caucasian Knot" correspondent.
According to Oleg Eliseev, investigators refuse to specify which exactly state secrets Parpulov had disclosed.
"As a result of this, the defence of him is virtually impossible. How can I defend the man, and how can he self-defend, if we don't want against what?" Eliseev told the "Caucasian Knot" correspondent.
"On January 29, 2015, my next complaint was considered lodged against illegal actions of the investigator under Article 125 of the Russian Code of Criminal Procedure. The court rejected the complaint, arguing that the actions of the investigator, who refused to provide information about the data allegedly disclosed by Parpulov, were correct," said the advocate.
The court's decision is in conflict with Article 47 of the above Code of Criminal Procedure, according to which the accused person has the right to know the charges against him or her, said the advocate.
Full text of the article is available on the Russian page of 24/7 Internet agency 'Caucasian Knot'.
Author: Svetlana Kravchenko Source: CK correspondent