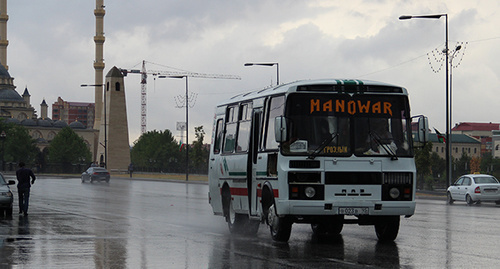 05 June 2015, 03:53
Protesters and rioters brought by buses to CaT's JMG office, eyewitnesses assert (+video)
Participants of the rally in Grozny, which grew into a pogrom of the office of the Committee against Torture (CaT) and the apartment, where members of the Joint Mobile Group (JMG) of rights defenders lived, show the use of administrative resources for centralized transportation of protesters to the capital of Chechnya.
The "Caucasian Knot" has reported that on June 3, in Grozny, unidentified persons attacked the office of the JMG, staffed by members of the CaT. According to eyewitnesses and JMG staff members, the police arrived at the place of the pogrom only after the attackers had smashed the car of the rights defenders and destroyed their office and apartment.
According to a woman, who witnessed the rally in the yard of the house in the centre of Grozny, where the JMG's office was located, the women, who were standing at the rally, were brought by buses and Gazel vans from the Nadterechny District of Chechnya. "I spoke to several women, and it became clear to me that they hardly understood against what they were protesting," the woman from Grozny, who preferred to remain anonymous, has told the "Caucasian Knot" correspondent.
The local woman has stated that the women were standing in the yard with posters in their hands, and later, they were joined by a group of young men. "The women were approached by an organized group of 12-19 young men, whose faces were covered with medical masks. In their hands, they were holding pinch-bars and other iron items, and they started to use them to smash the car of the rights defenders, which was parked in the yard. The young people of about 16-22 years old were coordinated by the older man. All of them got hand-held radio stations," the source has reported.
Full text of the article is available on the Russian page of 24/7 Internet agency 'Caucasian Knot'.
Source: CK correspondents