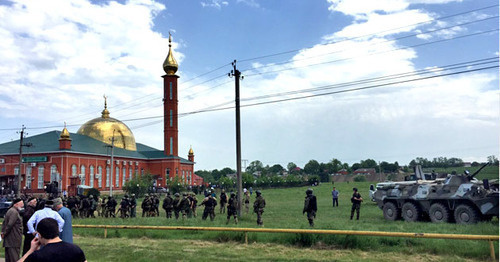 05 June 2015, 13:36
Spokesman of Ingush Security Council states absence of victims in Nasyr-Kort (+video)
On June 4, in the village of Nasyr-Kort of the Republic of Ingushetia, a conflict broke out among believers, where spontaneous automatic fire was opened. The conflict was triggered by the decision of local Imam not to hold collective Friday prayers.
Today in the morning, power agents cordoned off the mosque, where the conflict took place; no casualties and victims of the incident in the Nasyr-Kort mosque are reported.
"It's not clear yet what is happening. There are no victims; they are arguing loudly; they pushed each other for a couple of times, but nothing serious," a member of the Security Council of Ingushetia told "Caucasian Knot" correspondent in his comment, adding that the Friday prayer took place in the mosque.
According to one of the parishioners, the cordon of the mosque in Nasyr-Kort has not been removed. "Until now, the site is still cordoned off; some people left, but most of the believers stay there, fearing provocations against the Imam," he said.
Full text of the article is available on the Russian page of 24/7 Internet agency 'Caucasian Knot'.
Author: Magomed Tuayev Source: CK correspondent