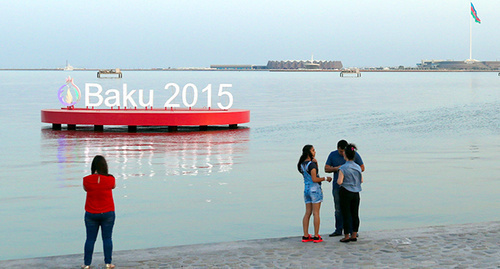 12 June 2015, 03:01
"The Guardian" journalists banned from attending European Games in Azerbaijan
Correspondents of the British newspaper "The Guardian" are refused in the accreditations to the European Games in Baku. The newspaper associates the reasons for the refusal with the publication of materials on the facts of the suppression of freedom in the country.
According to "The Guardian", on June 11, Owen Gibson, a leading sports correspondent, did not receive any response to his appeal, and therefore, he failed to enter Azerbaijan. According to the newspaper, the refusal could be connected with the Owen's trip to Azerbaijan in last December, the preparation of the material on the European Games and on the facts of the suppression of freedom of speech and expression in the country.
Owen Gibson also met journalist Khadija Ismayilova, who was later arrested.
The European Olympic Committee (EOC) has expressed its concern over the actions of the Azerbaijan's authorities. It is expected that Patrick Hickey, the President of the EOC, will hold in Baku the talks with Azerbaijani officials on the issue.
It should be noted that earlier, correspondents of other media were also refused in the accreditations to the European Games. According to Rachel Denber, the Deputy Director of the HRW's Programmes for Europe and Central Asia, during the recent weeks before the European Games, the Azerbaijan's authorities refused to issue accreditations and visas for at least three foreign journalists from the leading European media. On June 10, at the Baku airport, Emma Hughes, a public activist and a journalist, accredited for the European Games as the editor-in-chief of the magazine "Red Pepper", was detained and deported from the country.
The Azerbaijan's authorities have also refused to issue a visa for Régis Genté of the "Radio France Internationale".
Full text of the article is available on the Russian page of 24/7 Internet agency 'Caucasian Knot'.