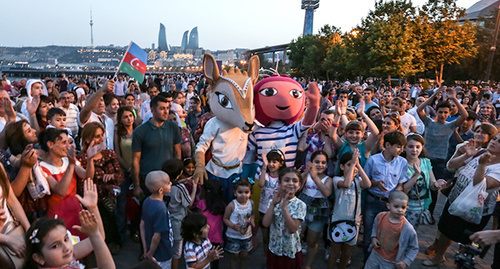 12 June 2015, 03:49
At opening of European Games, Baku runs up flags of Olympic Committees of 50 countries
Today, the capital of Azerbaijan holds the opening ceremony of the first European Games. The "Athletes' village" raised flags of Azerbaijan and the Olympic committees of 50 countries. Baku holds the opening ceremony of the European Games against the background of traffic jams and crowds of tourists.
The "Caucasian Knot" has reported that the first European Games will be launched in Baku on June 12. The preparations to the competitions are being carried out against the background of the human rights defenders' appeals to boycott the European Games because of the situation with human rights in Azerbaijan.
Today, the opening ceremony of the European Games will be held at the newly-built Olympic Stadium, which seats 68,195 spectators.
During the recent days before the opening of the competitions in Baku, the entire city was decorated with symbols of the European Games.
A number of the events in the cultural life of the country have also been timed to the European Games. So, the Azerbaijani National Museum of Art in Baku opened the exhibition "Sport and Art". The exhibition presents the works created by well-known Azerbaijani artists. On the seafront, in the town of "Little Venice", the European club of hospitality was opened for holding discussions related to the results of the competitions and for organizing the parties to honour winners of the competitions.
The European club will also operate a business centre. It will promote the history, culture, art, cuisine, and traditions of Azerbaijan.
Tickets to attend the opening ceremony of the European Games are completely sold out. Managers of the Operating Committee of the European Games have praised the high level of preparation for the European Games.
Full text of the article is available on the Russian page of 24/7 Internet agency 'Caucasian Knot'.
Author: Faik Medzhid Source: CK correspondent