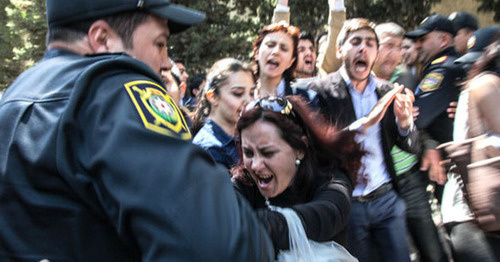 13 June 2015, 02:50
Mary Lawlor: human rights situation in Azerbaijan is ignored by US and EU because of their geopolitical interests
The prospect of improving the human rights situation in Azerbaijan and mitigation of the repressive regime in this country is pushed to the background because of the interest of the EU and the US in strengthening relations with the official Baku. The media attention is drawn to the European Games opened in Baku, while rights defenders and activists are kept in prisons, where there had been placed for political reasons, said Mary Lawlor, the Executive Director of the Front Line Defenders.
"The neat PR campaign of the Games, pursued by the government, was a success. On the one hand, it has attracted the attention of multinational companies to the opportunities of investing into the local oil and gas industry; on the other hand, rights defenders and their inconvenient questions were turned into enemies of the state, devoid of any patriotism, whose work is paid by international organizations, hostile to Azerbaijan," said Mary Lawlor.
In her opinion, the government of Azerbaijan is purposefully developing its strategically important relations with the EU and Israel, and as a NATO ally, it plays in the region a significant role in the US' war on terrorism.
"Since Europe is interested to reduce its dependence on Russian gas, while European governments, together with the United States, are trying to contain the political aggression of Russia, they cannot do without Azerbaijani support. And while Europe is discussing its tougher sanctions against Russia, there's no reason to expect sanctions against Azerbaijan in the near future," Ms Lawlor has concluded.
Full text of the article is available on the Russian page of 24/7 Internet agency 'Caucasian Knot'.