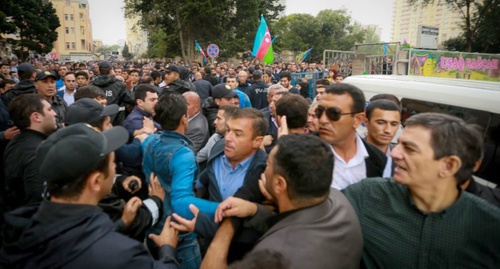 17 September 2016, 18:35
At least 20 participants of oppositional rally detained in Baku
Today, the National Council of Democratic Forces (NCDF) of Azerbaijan has held a rally at a Baku stadium against the amendments to the constitution, which broaden the powers of the president.
Power agents began detaining protesters when they were coming out of the stadium. At least three journalists were detained, including Faik Madjid, a "Caucasian Knot" correspondent.
When Faik tried to use his mobile phone to make photos of the detention of activists, power agents put him into a car of the patrol-and-post police service.
There were already three young oppositionists aged 18-19 in the car. They told the "Caucasian Knot" correspondent that they were detained without explanations, when they just were going from the rally.
After checking documents, policemen released all the media professionals.
The exact number of detained oppositionists is now being clarified; it is known that there were at least 20 of them, as Ogtay Gyulyalyev, a human rights activist and a member of the NCDF, told the "Caucasian Knot" correspondent.
Full text of the article is available on the Russian page of 24/7 Internet agency 'Caucasian Knot'.
Author: Faik Medzhid Source: CK correspondent