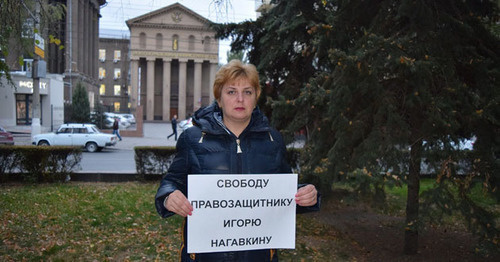 20 October 2016, 13:16
FSIN sees no threats to health of Igor Nagavkin arrested in Volgograd
Igor Nagavkin, an arrested Volgograd human rights defender, is under the control of a medical officer at the SIZO (pre-trial prison). This was reported by the Department for the Volgograd Region of the Federal Penitentiary Service (known as FSIN). The Human Rights Council of Volgograd has acknowledged Igor Nagavkin as its member and prepares actions in its defence.
The "Caucasian Knot" has reported that on October 2, Igor Nagavkin, the leader of the regional branch of the movement "For Human Rights", was arrested for two months on suspicion of thefts. According to his defence, the activist began a hunger strike in protest against the lack of skilled medical care.
According to the press service of the FSIN Department for the Volgograd Region, "the defendant is not in need of emergency medical care."
The meeting of the Human Rights Council (HRC) of Volgograd held on October 19 was focused on the arrest of Igor Nagavkin. This was reported by Temur Kobaliya, the HRC leader.
According to him, the HRC plans to hold a series of events in support of Igor Nagavkin, including a press conference together with Public Oversight Commission (POC), a meeting with the deputy prosecutor, and pickets.
Full text of the article is available on the Russian page of 24/7 Internet agency 'Caucasian Knot'.
Author: Tatyana Filimonova Source: CK correspondent