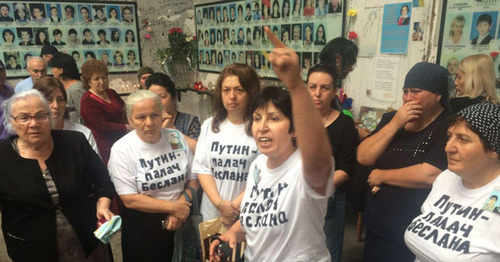 21 October 2016, 20:17
Punishment to Beslan protester changed
The Supreme Court of North Ossetia has replaced the initially appointed correctional labour to Svetlana Margieva, a protester in Beslan, by a fine of 5000 roubles.
The "Caucasian Knot" has reported that on September 1 in Beslan, women-protesters were detained for appearing in T-shirts with accusations against Russian president. They were charged with violating the public order. Four activists were awarded 20 hours of correctional works, and two others were fined by 20,000 roubles each.
Among the protesters were Ella Kesaeva, whose daughter was taken hostage, but survived; Emma Betrozova, who lost her husband and two sons in the terror act; Zhanna Tsirikhova, who herself was held hostage along with her two daughters, one of whom perished; Svetlana Margieva, who was also a hostage with her daughter, who died in her arms; and Emilia Bzarova, whose son was killed during the terror act.
Today, the Supreme Court of North Ossetia has partially satisfied Ms Margieva's complaint by re-qualifying her case from "organization of uncoordinated action" to "violation of the established order of holding an action". The court took into account that Margieva was a participant, not an organizer.
According to Margieva, she had hoped for a complete acquittal, and intends to appeal against this judgement either.
Let us remind you that the human rights organization Freedom House and Amnesty International spoke in defence of women-protesters.
Full text of the article is available on the Russian page of 24/7 Internet agency 'Caucasian Knot'.
Author: Alan Tskhurbaev Source: CK correspondent