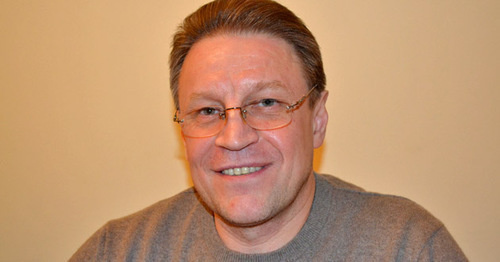 07 December 2016, 03:44
Advocates claim spy hysteria in Kuban
According to advocate Ivan Pavlov, there are too many coincidences in cases of high treason instituted against Kuban pensioners and housewives.
The "Caucasian Knot" has reported that Oksana Sevastidi, a resident of Sochi, was sentenced to seven years of imprisonment in a penal colony for sending an SMS stating that she had witnessed transportation of military vehicles in the direction of Abkhazia.
Ivan Pavlov notes that in 2008, Oksana Sevastidi sent an SMS, stating that she had witnessed military vehicles transported in the direction of Abkhazia, to her acquaintance, a son of the former chief of the on duty unit of the extra-departmental guard service in Abkhazia.
"In this case, I'm interested in three completely illogical details. Why is the verdict pronounced in 2016 is based on the events of 2008? It turns out that nobody suppressed the crime during 8 years? And how can the movement of open military cargo, which could be seen by everyone who appeared along the railroad road and who could shoot pictures and videos of it, be attributed to a state secret?" said the advocate.
He has noted that he had read about the case against 47-year-old Ekaterina Kharebava. The advocate believes it is identical to his client's case.
Leonid Erchenko, the chair of the branch of the Moscow Bar Association "DELO" in the city of Sochi, has called the verdict to Ekaterina Kharebava an "act of intimidation." Leonid Erchenko notes he cannot understand how SMS sent in 2008 can become a basis for a charge.
Full text of the article is available on the Russian page of 24/7 Internet agency 'Caucasian Knot'.
Author: Svetlana Kravchenko Source: CK correspondent