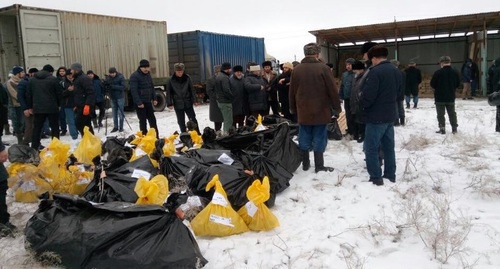 31 December 2016, 15:58
Remains of 109 victims of First Chechen War brought to Chechnya
Today, the remains of 109 victims killed during the First Chechen War, including women and children, have been taken from Rostov-on-Don to Grozny. This was reported by human rights defender Aset Malsagova. According to a source from the Muftiate, the remains were buried.
The "Caucasian Knot" has reported that today, December 31, marks the 20th anniversary of the withdrawal of the last federal troops from Chechnya on December 31, 1996.
According to various sources, 4000-14,000 Russian soldiers and officers, 3000-10,000 Chechen fighters, and 50,000-100,000 civilians were killed.
"They were men, women, and children. Two of them are identified, and their remains were taken by their relatives. If some of your relatives disappeared during the First Chechen War, then you could find out through the DNA examination if the number of 109 victims included your disappeared relatives," Aset Malsagova addressed the people of Chechnya.
In her conversation with the "Caucasian Knot" correspondent, Kheda Saratova, a member of the Human Rights Council under the Chechen leader, has confirmed the information that the remains of the victims killed during the First Chechen War were brought to Grozny.
Full text of the article is available on the Russian page of 24/7 Internet agency 'Caucasian Knot'.
Author: Karina Gadzhieva Source: CK correspondent