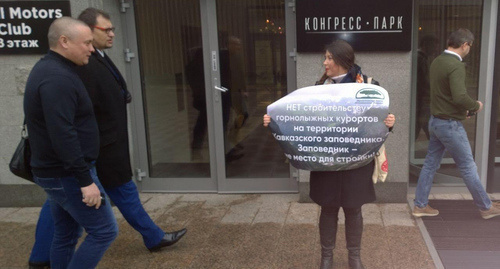 21 March 2017, 12:09
Solo pickets under the slogan "Stop poisoning Caucasus!" held in Moscow
The activists Sofia Rusova and Atsamaz Khadikov have held solo pickets at the building hosting the Eighth International Environmental Forum, protesting against the operation of the "Electrozink" Factory and the construction of a resort in the territory of the Caucasian Reserve.
Sofia Rusova, a board member of the "Ecological Watch for Northern Caucasus" (EcoWatch), and Atsamaz Khadikov, a member of the faction "Green Russia" of the "Yabloko" Party, stood with their posters at the "Radisson Royal Moscow" Hotel, where the above forum was held on March 20-21.
Ms Rusova has noted that "in connection with the expansion of the ski resort in Sochi, the world natural heritage is under threat."
According to her story, the "EcoWatch" demands from the authorities "to declare an unlimited moratorium on the construction of new large-scale tourist and sports facilities."
Mr Khadikov has added that "the authorities would not keep dialogue with citizens and try to silence the most dangerous environmental issues."
Full text of the article is available on the Russian page of 24/7 Internet agency 'Caucasian Knot'.
Author: Svetlana Kravchenko Source: CK correspondent