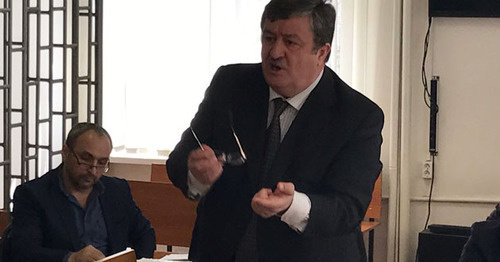 05 April 2017, 21:19
Presidium of Chechen SC acknowledges Zhalaudi Geriev's innocence, defence reports
Seven months after the verdict pronounced by the Shali District Court against Zhaladi Geriev, the Presidium of the Supreme Court (SC) of Chechnya has agreed with the defence's arguments that Zhaladi Geriev, a "Caucasian Knot" correspondent, did not acquire drugs. In fact, the Chechen SC has recognized Zhaladi Geriev as innocent, but still made the ridiculous decision to uphold the verdict of guilty. This was reported by advocate Alaudi Musaev.
Today, the Presidium of the Supreme Court of Chechnya has upheld the verdict against Zhaladi Geriev and excluded the conviction of the journalist on the charge of illegal acquisition of drugs on a particularly large scale and the reference to the results of the investigation into the Zhaladi Geriev's complaint about kidnapping and torture. The case was considered in the absence of the sentenced journalist.
According to the defence, the today's court decision "makes the appeal ruling itself untenable." "I believe that by its resolution, the Presidium of the Chechen SC has excluded the procedural check from the appeal decision of the Chechen SC and thus undermined the basis of that appeal ruling, which was actually based on that particular evidence. Meanwhile, the verdict and the ruling were upheld," said the advocate.
The advocate has noted that the defence "will challenge the actions of the Presidium of the Chechen SC at the Supreme Court of Russia."
Full text of the article is available on the Russian page of 24/7 Internet agency 'Caucasian Knot'.
Author: Magomed Tuaev Source: CK correspondent