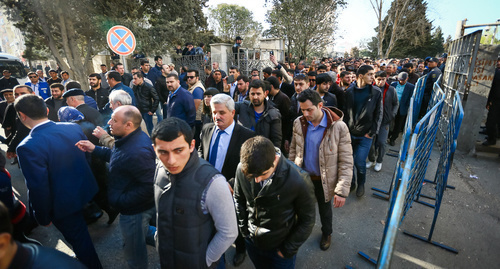 08 April 2017, 16:38
In Baku, protestors stand for refusal of authoritarianism in Azerbaijan (+video)
In Baku, activists have finished a rally held against the Mekhriban Alieva's appointment as Vice-President of Azerbaijan. The protesters have adopted a resolution condemning the establishment of a "family power" in the country.
The "Caucasian Knot" has reported that today, about 3000 people have come to the protest action organized by oppositionists in Baku.
The protestors have included in their resolution the demands to take "steps to abandon authoritarianism", to carry out real combat against corruption and monopolies, and to take measures for social protection of the population and release of political prisoners.
Earlier, the organizers of the protest action have claimed that the appointment of the First Vice-President "has become a consolidation of the monarchy in the country."
Full text of the article is available on the Russian page of 24/7 Internet agency 'Caucasian Knot'.
Author: Faik Medzhid Source: CK correspondent