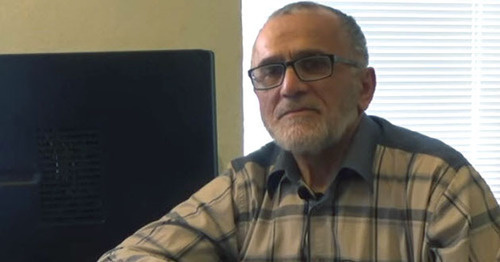 14 April 2017, 13:43
Father of man arrested for financing militants describes how he saved his son from IS
In his interview to the "Caucasian Knot", Kazim Nurmagomedov, a resident of the Dagestani village of Karata, has described how he managed to independently return one of his sons from the territory of the terrorist organization "Islamic State" (IS) banned in Russia by the court.
The "Caucasian Knot" has published the full text of the interview with Kazim Nurmagomedov entitled "Returning alive: travelling from Dagestan to take a son out of IS". In the interview, the man also mentions the charges of financing of terrorism filed against his eldest son.
The "Caucasian Knot" has reported that Shamil Nurmagomedov, a native of Makhachkala, the commercial director of one of Moscow Region companies, was detained and arrested by a court's decision despite the defence's arguments stating that he was trying to bring home his brother who stayed in Syria. On February 1, Shamil Nurmagomedov was formally charged with sponsoring the terrorist organization "Islamic State" (IS) banned in Russia.
According to Kazim Nurmagomedov, on August 1, 2013, without telling anyone, except his brother, his son Marat left his pregnant wife and went to Syria. He got to the militants' place through Istanbul. According to his father, he went for his son in just a month. The man described how he got to Syria and how people lived there, how he stayed with militants on his way to his son, and how much he had to pay to illegally cross the Turkish border. At present, Marat stays in Ukraine.
Kazim Nurmagomedov has confirmed that his son Shamil rendered financial help to secure the release of his younger brother.
Full text of the article is available on the Russian page of 24/7 Internet agency 'Caucasian Knot'.