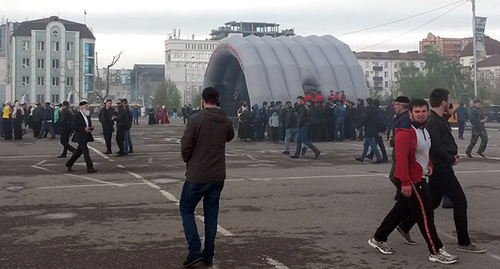 23 April 2017, 03:55
"RBC": Ramzan Kadyrov calls on "Novaya Gazeta" journalists to kneel at people's feet
Ramzan Kadyrov, the leader of the Chechen Republic has stated that the journalists of the newspaper "Novaya Gazeta", who reported about violations of the rights of homosexuals in the republic and the existence of secret prisons, should apologize to residents of Chechnya. This was reported by the "RBC".
The "Caucasian Knot" has reported that on April 1, the newspaper "Novaya Gazeta" reported about mass detentions in Chechnya of men suspected of unconventional sexual orientation. Later, the newspaper "Novaya Gazeta" reported with reference to gays persecuted in Chechnya that in Argun, a "secret prison" had been arranged for people with unconventional sexual orientation.
"You, the journalists, should ask those corrupted shaitans to apologize to the Chechen people and kneel at their feet, since they insulted, humiliated, and accused them. They themselves invented that, they announced that and claimed that," the leader of Chechnya said as quoted by the "RBC".
Besides, Ramzan Kadyrov has commented on adoption of a resolution at the central mosque of Grozny, which dealt with "retaliation" against instigators. The Chechen leader has explained the resolution by the desire to reassure young people.
"The young people were ready for anything. The elders have gathered and made such a decision to calm the young people," stated Ramzan Kadyrov.
Meanwhile, the leader of Chechnya has expressed the opinion that authors of materials on Chechnya work "for pennies for Western secret services."
Let us remind you that on April 13, the "Novaya Gazeta" published a statement that theologians in Chechnya had openly called for violence against journalists of the newspaper.
Full text of the article is available on the Russian page of 24/7 Internet agency 'Caucasian Knot'.