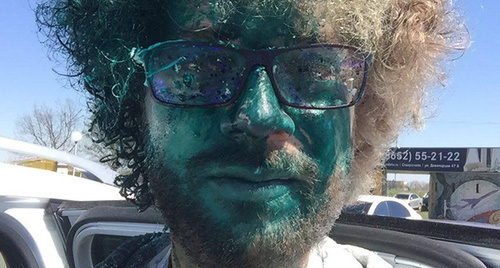 26 April 2017, 13:02
In Stavropol, unidentified peoples attack blogger Ilya Varlamov
After his arrival to Stavropol, photo blogger Ilya Varlamov was attacked by unidentified people, who poured brilliant green on him.
The "Caucasian Knot" has reported that Ilya Varlamov is a well-known photo blogger, one of the organizers of the "City Projects", an independent public organization dealing with the problems of cities. In February 2015, Ilya Varlamov published a report about his visit to Makhachkala, in which he called the city one of the worst regional centres in Russia. Residents of Dagestan have recognized the shortcomings of the capital of the republic, but still accused the blogger of being biased.
According to Ilya Varlamov, the incident has occurred today in Stavropol. "I left the airport. Outside, there was a group of people with flowers and some other guys. I did not even understand what happened. Some people immediately attacked me, poured brilliant green, iodine and something else incomprehensible into my eyes... They did not say anything, they just once shouted: 'Go to your America!', and then they ran away," the blogger wrote in a blog on his website.
According to Ilya Varlamov, the incident occurred in front of police officers. "The policemen were very surprised and said that they had such an incident for the first time and that they announced the plan for 'interception' of the criminals... I am going to the OVD (Interior Division) now, and I will file a complaint, since they have spoiled my equipment," Ilya Varlamov reported.
The blogger has noted that he was not injured in the attack.
Full text of the article is available on the Russian page of 24/7 Internet agency 'Caucasian Knot'.