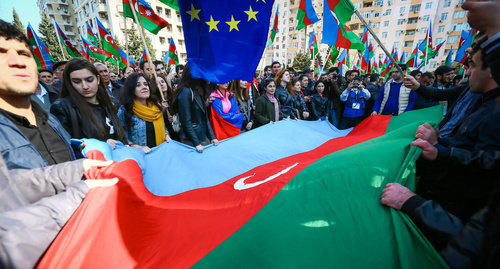 04 May 2017, 15:18
Fifth oppositionist fired after rally in Baku
Elkhan Nuriev, an activist of the Popular Front Party of Azerbaijan (PFPA), who worked as a driver, said that his bosses forced him to resign. He is fifth member of the party, who lost his job after the April oppositional rally.
The "Caucasian Knot" has reported that in late April two teachers and one employee of a private enterprise, all – PFPA activists – were sacked after they took part in the rally in Baku. On May 1, another oppositionist was dismissed – a teacher of a rural school in the Masalli District. Ali Kerimli, the PFPA leader, has treated these cases as a new form of pressure on authorities' opponents.
According to Nuriev, he worked as a driver at the department of transport and special equipment at the water distribution Open Joint-Stock Company (OJSC) "Azersu".
"On May 3, they told me that company bosses were angry with my participation in the oppositional rally on April 8. I said that it was my personal business, and I went there on my day off. I was given a choice: to leave the party and stop political activities, or being sacked. I said that I was not going to give up my political convictions. Then, they suggested that I write an application of resignation on my own will, otherwise they threatened me with big troubles," said Nuriev.
Gezyal Bairamly, the Deputy of the PFPA, has noted that recently party activists have been pressured for their participation in duly sanctioned rallies.
Full text of the article is available on the Russian page of 24/7 Internet agency 'Caucasian Knot'.
Author: Faik Medzhid Source: CK correspondent