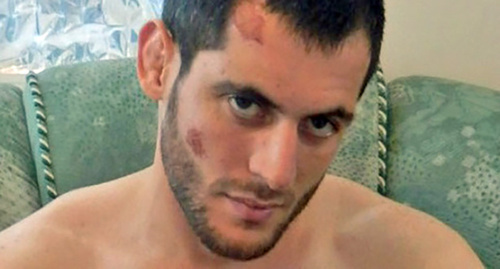 08 June 2017, 03:37
Murad Amriev detained in Belarus
Belarusian border guards detained Murad Amriev, an MMA fighter, in Dobrush. Earlier, he has claimed facing the threats of blood feud in Chechnya and fled the transport police building in Bryansk.
The "Caucasian Knot" has reported that on June 4, in the Bryansk Region, Murad Amriev was detained on the charge of using a forged document, when he was travelling to Moscow from abroad. On June 6, the newspaper "Novaya Gazeta" reported that the police released Murad Amriev. The Committee for the Prevention of Torture reported on Twitter that Murad Amriev is formally free, but he still stays in a building cordoned off by law enforcers in masks. Later, Oleg Khabibrakhmanov, a member of the Committee for the Prevention of Torture, said that the athlete fled from the cordoned off building. According to the "Novaya Gazeta", the building was cordoned off by fighters of the Chechen special forces and field investigators of the Chechen Ministry of Internal Affairs (MIA) in civilian clothes.
At about midnight of June 8, Murad Amriev was detained by border guards in Belarusian town of Dobrush, the "Dozhd" (Rain) reports with reference to Igor Kalyapin, the leader of the Committee for the Prevention of Torture.
In September 2013, Murad Amriev, world champion in MMA, complained to human rights defenders in Chechnya that in August 2013, three men forced him into a car and took him to a building of the law enforcement agencies where he was subjected to torture. According to Murad Amriev, they tortured him in an attempt to force him to defame his elder brother, who stayed broad. After that, they took him home and put forward a condition that his brother should return to Chechnya. Murad Amriev left the republic, since he feared for his life.
Full text of the article is available on the Russian page of 24/7 Internet agency 'Caucasian Knot'.