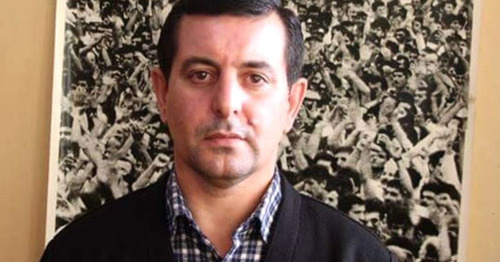 18 June 2017, 21:46
Faig Amirov's defence states sharp deterioration of his health at SIZO
At SIZO (pre-trial prison) in Baku, the health of Faig Amirov, the financial director of the "Azadlyg" newspaper, has sharply deteriorated, while his medical treatment there is impossible, said his wife. His advocate treats the situation as a violation of the European Convention of Human Rights (ECHR).
Lala Amirli, Faig's wife, told the "Caucasian Knot" correspondent today that on June 17, Faig called from Baku SIZO-1 and said about deterioration of his health.
"He was examined by doctors of the Ministry of Justice; they prescribed some medications, but the problem is that his digestive system is in disorder; and he needs strictly dietary food; it's impossible to provide it daily at the SIZO. Without a diet, treatment is ineffective," Ms Amirli said.
Fakharaddin Mekhtiev, Amirov's advocate, told the "Caucasian Knot" correspondent that the defence had repeatedly applied to investigators and the court asking to transfer Amirov under house arrest for his health reasons.
"All our petitions are rejected. The attitude of investigators and the court to Amirov is nothing but inhuman treatment, prohibited by Article 3 of the ECHR," said the advocate.
Full text of the article is available on the Russian page of 24/7 Internet agency 'Caucasian Knot'.
Author: Faik Medzhid Source: CK correspondent