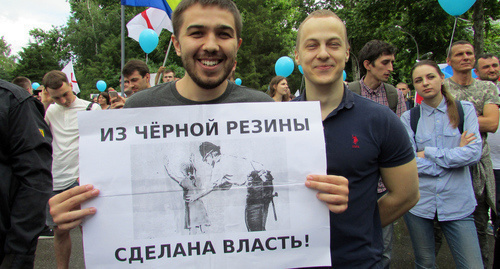 28 June 2017, 18:22
Volgograd mother fined for her son's participation in anti-corruption rally
The court fined by 10,000 roubles the mother of a teenager, who took part, on March 26, in the rally in support of the oppositionist Alexei Navalny in Volgograd.
The "Caucasian Knot" has reported that on March 26, about 30 people were detained at a rally in Volgograd. Alexei Volkov, the coordinator of the Navalny's election office, was fined by 15,000 roubles for organizing the rally.
According to the case materials, police repeatedly demanded from the teen to leave the rally, but he would not listen to them.
His mother claimed that the commission for minors' affairs had no evidence, apart from the police protocol. However, as stated in the case file, the teen has informed the commission that he took part in the rally, knowing in advance that it was not sanctioned.
Full text of the article is available on the Russian page of 24/7 Internet agency 'Caucasian Knot'.