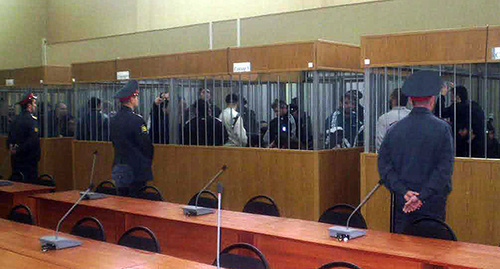 05 July 2017, 00:40
Sister of man sentenced for attack on Nalchik complains about his torture in penal colony
Aminat Khupsergenova, a resident of Kabardino-Balkaria, has appealed to the Russian General Prosecutor, the chief of the Russian Federal Penitentiary Service (known as FSIN), the leader of the "Committee for Civil Rights", and to the chairman of the Kabardino-Balkarian regional human rights centre with a complaint about violation of the Khasanbi Khupsergenov's rights.
Aminat Khupsergenova has reported that Khasanbi Khupsergenov and his brother Akhmed Khupsergenov were sentenced in the case of an attack on Nalchik. They are serving their sentences in a penal colony in the KrasnoyarskTerritory, Aminat Khupsergenova noted.
"From a letter of my brother Khasanbi Khupsergenov, I learned that torture and physical violence were regularly used against him. He got his nose and rib broken, and his knee was damaged. My brother seriously fears for his life. He fears that something terrible can happen with him," stated Aminat Khupsergenova in her letter.
In her appeal, Aminat Khupsergenova has demanded "to institute a criminal case on the use of torture, physical and mental violence" and "take measures to ensure the safety of her brother."
Full text of the article is available on the Russian page of 24/7 Internet agency 'Caucasian Knot'.
Author: Lyudmila Maratova Source: CK correspondent