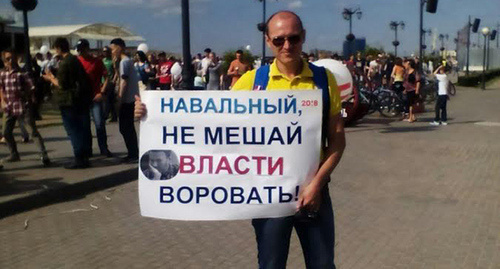 05 July 2017, 14:55
In Astrakhan, Court fines supporter of Alexei Navalny
The Kirov District Court of Astrakhan has considered the case against Boris Kolomin, whom the police recognized as an organizer of a walk around the city of Alexei Navalny's supporters held on June 12. The activist was fined by 10,000 roubles. Meanwhile, Boris Kolomin himself announced his intention to challenge the Court's decision.
The "Caucasian Knot" has reported that the Astrakhan Mayor's Office did not sanction the rally to be held by the Alexei Navalny's supporters on June 12. However, they held their action in the form of a walk along the central streets of the city. About 500 people took part in the action.
Today, the Court has considered Boris Kolomin's case and pronounced only the operative part of the verdict with the decision to recognize Boris Kolomin guilty of committing an administrative offense and fine him by 10,000 roubles.
"I do not plead guilty. Upon receipt of the complete Court's decision, I will challenge it at higher courts," Boris Kolomin told the "Caucasian Knot" correspondent after the Court's decision had been pronounced.
Full text of the article is available on the Russian page of 24/7 Internet agency 'Caucasian Knot'.
Author: Elena Grebenyuk Source: CK correspondent