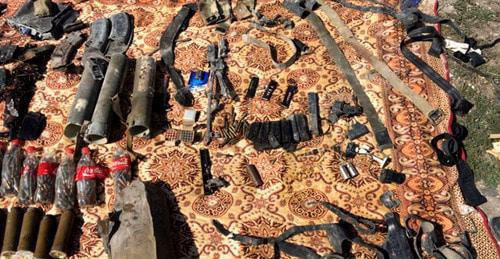 23 August 2017, 18:46
Homemade bombs found at CTO venue in Ingushetia
In the basement of a house in the Ingush village of Psedakh, where the killed militants were hiding, an underground bunker and a shop for making improvised explosive devices (IEDs) were found. This was stated by the Russian National Antiterrorist Committee (NAC).
The "Caucasian Knot" has reported that today the village of Psedakh was put under the counterterrorist operation (CTO) regime, and four alleged militants were killed. According to the NAC, they were wanted for shelling the building of the FSB Branch in the city of Malgobek, killing policemen and attacking the police station in the same city.
Special agents blocked the house where militants were hiding and demanded from them to lay down their arms, but they opened fire. In the course of the shootout, a powerful explosion occurred in the house, the NAC reports.
While removing the debris, power agents found a bunker with grenade launchers, submachine guns, pistols, a homemade grenade and explosives in the basement of the house.
Full text of the article is available on the Russian page of 24/7 Internet agency 'Caucasian Knot'.