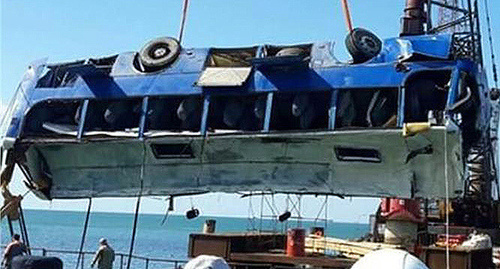 25 August 2017, 12:43
Accident near Temryuk becomes eighth major road accident with a bus in Kuban in 2017
In the Krasnodar Territory, the today's road accident has been preceded by at least seven major road accidents involving buses. As a result of seven accidents which occurred since early 2017, four persons were killed and 54 others were injured.
The "Caucasian Knot" has reported that a bus transported workers of the "Tamanneftegaz" enterprise returning from a watch and fell into the Kerch Strait. According to the Ministry for Emergencies (MfE) as at 12:00 a.m. Moscow time, 16 people were killed. 24 people are rescued, and rescuers are searching for one more person.
On August 3, an accident involving a KamAZ truck and a minivan transporting children occurred near Novorossiysk. Eight children were injured.
On July 27, four persons were killed and 11 others were injured in a collision of a bus, a car and a truck in the Krasnodar Territory.
On July 14, a shuttle bus crashed into a route taxi at a bus stop in Sochi. Five passengers of the bus were injured.
On the same day, a bus left the M4-Don road and turned over in the Krasnodar Territory. Eight persons were injured.
On May 1, two passenger minivans collided in Sochi. 12 people were brought to a hospital.
On April 8, a passenger bus collided with a truck in Novorossiysk. Six persons were brought to a hospital.
On January 22, nine Armenian citizens were taken to a hospital after a road accident in the Krasnodar Territory involving a minivan.
Full text of the article is available on the Russian page of 24/7 Internet agency 'Caucasian Knot'.