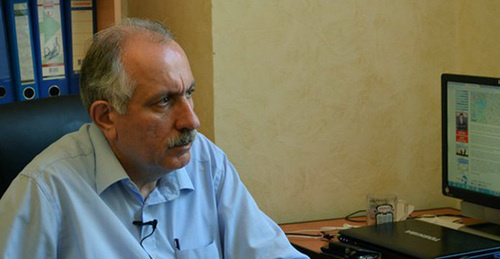 26 August 2017, 06:09
Activists claim political nature of criminal proceedings against Mekhman Aliev
In Azerbaijan, public activists consider the criminal proceedings against Mekhman Aliev, the director of the news agency "Turan", to be politically motivated. The news agency was one of the last independent media in the country, and it objectively covered the problems of people and identified the facts of corruption. This was stated by Ogtai Gyulyalyev, the leader of the Alliance "Azerbaijan without Political Prisoners". According to Emin Guseinov, the executive director of the Institute for Reporters' Freedom and Safety (IRFS), the criminal proceedings against Mekhman Aliev follows the same scenario like in cases with other independent media and NGOs.
The "Caucasian Knot" has reported that on August 24, Mekhman Aliev was detained, and he was charged under three articles of the Azerbaijani Criminal Code.
Ogtai Gyulyalyev believes that the news agency "Turan" also performed public control functions. The news agency investigated the facts of corruption in public institutions.
The Mekhman Aliev's arrest is a next step in the authorities' policy to suppress freedom of the press, believes Isa Gambar, the leader of the Centre for National Strategic Thought.
He has noted that another reason for the Mekhman Aliev's arrest may lay in an attempt of the Azerbaijani authorities to turn the problem of political prisoners into a subject of bargaining with international organizations.
Isa Gambar has also added that Mekhman Aliev was not an oppositionist and that he always used correct words to speak about the government.
Full text of the article is available on the Russian page of 24/7 Internet agency 'Caucasian Knot'.
Author: Faik Medjid Source: CK correspondent