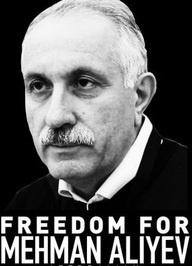 26 August 2017, 12:54
HRHF calls on for immediate release of Mekhman Aliev
The arrest of Mekhman Aliev, the director of the news agency "Turan", has become another step taken by the Azerbaijani authorities to suppress independent media. This was stated by the Human Rights House Foundation (HRHF).
The "Caucasian Knot" has reported that on August 24, Mekhman Aliev was detained. He was charged under three article of the Azerbaijani Criminal Code.
According to the HRHF, the pro-government media in Azerbaijan reported the Mekhman Aliev's arrest even before it took place.
"This is a direct prove to show the level to issue an order for the detention of Mekhman Aliev," the HRHF quotes Fuad Agaev, an advocate of Mekhman Aliev, as saying.
According to HRHF Director Maria Dahle, the arrest of the director for the news agency "Turan" demonstrates "the obvious desire of the government [for Azerbaijan] to become the only voice in the public space."
The HRHF's website reports that in recent years, the Azerbaijani authorities charged hundreds of journalists, rights defenders and activists in various crimes, including tax evasion, hooliganism, illicit drug trafficking, etc.
According to Maria Dahle, the next step to follow the practice "completely destroys the image of the Azerbaijani authorities and should lead to harsh measures from the international community."
The international organization "Reporters Without Borders" (RWB) has also condemned the Mekhman Aliev's detention.
Full text of the article is available on the Russian page of 24/7 Internet agency 'Caucasian Knot'.