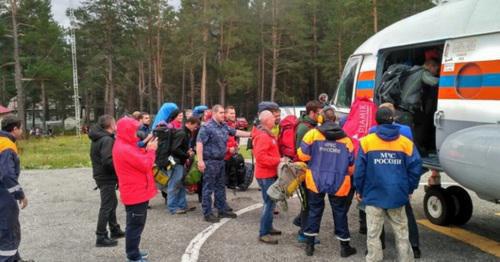 02 September 2017, 14:21
Three helicopters evacuate tourists from emergency zone in Elbrus area
More than 200 tourists are evacuated from the mountainous zone of Mount Elbrus cordoned off by a mudflow. Today, 16 people have been sent by the flight of a rescue helicopter, first for this morning. This has been reported by an official from Ministry for Emergencies (MfE).
The "Caucasian Knot" has reported that at night of September 1, a mudflow descended from a slope of the Adyl-Su Gorge in the vicinity of the village of Elbrus. 7750 people found themselves on the territory cordoned off by the mudflow.
This morning, on a tourist route of Mount Elbrus, there have been 41 tourist groups: in total, 208 people, including 66 foreign citizens, the RIA "Novosti" reports.
The evacuation of tourists has been resumed, and three Mi-8 helicopters are involved in the rescue operation. This morning, the first helicopter flight has taken and delivered 16 people to Tyrnauz.
Today, to restore the road destroyed by the mudflow, rescuers have conducted a test explosion of the rock, which blocked the way to the destroyed section of the road. Rescuers from the Ministry for Emergencies intend to destroy the rock and boulders in the bed of the Baksan River with controlled explosions to open the road as soon as possible, the "Interfax-Yug" reports.
Full text of the article is available on the Russian page of 24/7 Internet agency 'Caucasian Knot'.