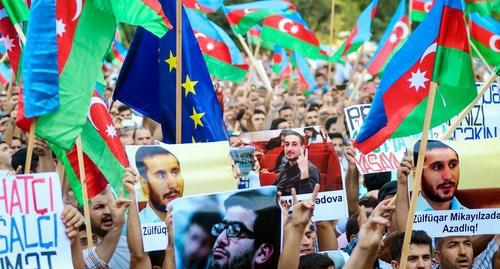 23 September 2017, 19:35
Baku: opposition demands to return laundered money back to people
The oppositional rally has accused Azerbaijani authorities of corruption and demanded to investigate the leakage of about three billion laundered US dollars from the country.
The rally held under the slogan "End to Corruption! Freedom to Political Prisoners!" was held today under reinforced security measures at the stadium in the Yasamal District of Baku. According to preliminary estimates, it was about 3000 people strong.
Ali Kerimli, the leader of the Popular Front Party of Azerbaijan (PFPA), has accused the authorities of corruption and called for the release of political prisoners. He noted that during the rally preparation, 53 PFPA activists were detained.
Gyultekin Gadjibeili, a member of the coordinating centre of the National Council of Democratic Forces (NCDF) and a former member of the Azerbaijani delegation to the Parliamentary Assembly of the Council of Europe (PACE), has also accused the authorities of "plundering the country's wealth."
"For many years, they (the authorities) kept stating that oil is our wealth. Now, having plundered our oil resources, they say 'forget about oil'," she has added.
According to Djamil Gasanli, the NCDF leader, the country's money, intended for security, education and health care, was removed to offshore companies.
In his turn, Siyavush Novruzov, Deputy Executive Secretary of the ruling "Yeni Azerbaijan" Party, has stated that "just 200-300 people took part in the rally," and the action showed "absence of people's support of the opposition."
Full text of the article is available on the Russian page of 24/7 Internet agency 'Caucasian Knot'.
Author: Faik Medjid Source: CK correspondent