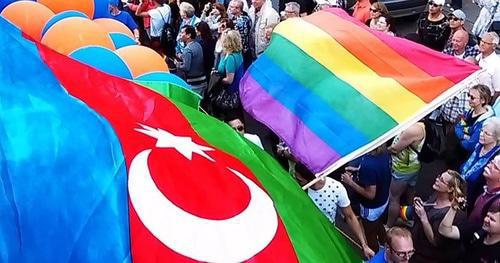 30 September 2017, 23:28
61 LGBT activists arrested after raids in Baku
About 150 homosexuals and transgenders were detained in Baku during police raids conducted in mid-September. Over a third of them were arrested for up to 30 days, the rest were fined.
Samed Ragimli, a human rights lawyer, coordinates the defence of sexual minorities' rights, who were exposed to violence and detentions.
"In Azerbaijan, discrimination of sexual minorities took place before, but this time, in mid-September, they conducted large-scale raids; people were detained in city streets. Later, they knocked out information from detainees about their gay friends; and the latter were taken away right from their apartments. Gays and transgenders were subjected to inhuman treatment and torture with electric shockers. Apartments owners were forced to evict their gay tenants," Mr Ragimli asserts.
According to his story, based on various sources, about 150 people were detained in total. Most of them were released after issuing warnings and fines, but about a third of them were sentenced to administrative arrests.
"I coordinate a group of five advocates who defend the rights of 45 LGBT activists, sentenced to administrative arrests for 10, 20 and 30 days," said Ragimli.
Khadidja Ismayilova, a journalist and rights defender, told the "Caucasian Knot" correspondent that, apart from the Ragimli's group, two other advocates are engaged in defending arrested LGBT activists' rights. They defend 16 people arrested for 20 and 30 days. Thus, according to Ismayilova, the total number of those arrested is 61.
"However, this may not be the final figure, since there may be those who refused to complain whatsoever," Ms Ismayilova said.
Full text of the article is available on the Russian page of 24/7 Internet agency 'Caucasian Knot'.
Author: Faik Medzhid Source: CK correspondent