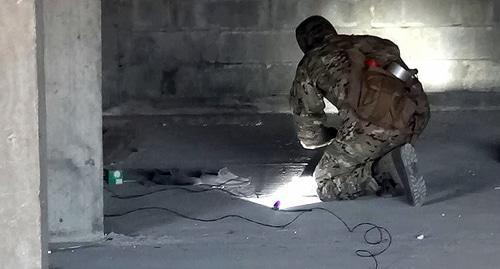 16 October 2017, 12:30
On October 9-15, 2017, two persons fell victim to armed conflict in Northern Caucasus
During the week of October 9-15, 2017, two persons were killed in the armed conflict in Northern Caucasus. No wounded were reported. These are the results of the calculations run by the "Caucasian Knot" based on its own materials and information from other open sources.
Both killed persons were suspected members of the armed underground in Dagestan.
Special and counterterrorist operations
On October 10, the counterterrorist operation (CTO) legal regime was introduced in the Shamil District of Dagestan. Law enforcers searched for members of the armed underground and their accomplices. Two persons were killed on the outskirts of the Teletl village. According to the law enforcement agencies, they were members of the Shamil militant grouping. The suspects were offered to surrender, but they opened fire and were killed by return fire. At the place of the armed clash, law enforcers found submachine guns. The killed suspects were identified as brothers Magomed and Saigidbulut Mirzoev. The CTO legal regime was lifted on October 12.
Bombings and terror acts
On October 14, law enforcers discovered an improvised explosive device (IED) in the same building in Makhachkala, where two IEDs were found on October 5. In the same unfinished building in No. 29 in Peter the Great Avenue, law enforcers found a bomb designed to be attached to a car bottom or to a seat in a bus. The bomb was defused.
Detentions
On October 13, in North Ossetia, after nine years of searches, law enforcers detained a member of the grouping involved in kidnappings of people. The grouping consisted of six people and operated in the 2000s. One member of the grouping was put on the wanted list yet in August 2008. A 55-year-old man was caught in a garden plot of his neighbours. According to the police, he lived in the neighbouring republic of the North-Caucasian Federal District (NCFD). The man has been taken into custody.
On October 13 and 14, four natives of Dagestan were detained in Moscow and Makhachkala. According to the National Antiterrorist Committee (NAC), they are members of a dormant militant unit of the terrorist organization "Islamic State" (IS) banned in Russia. According to the NAC, the detainees confessed to their contacts with emissaries of Syrian militants, preparation of terror acts in Dagestan, and attempts on law enforcers and soldiers. In Makhachkala, law enforcers discovered two hidings belonging to the detainees and containing three IEDs.