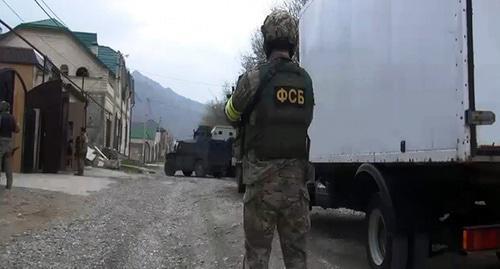 06 November 2017, 06:04
On October 30-November 5, 2017, eight persons fell victim to armed conflict in Northern Caucasus
During the week of October 30-November 5, 2017, at least eight persons fell victim to the armed conflict in Northern Caucasus. Of them, five persons were killed and at least three others were wounded. These are the results of the calculations run by the "Caucasian Knot" based on its own materials and information from other open sources.
The death toll includes three suspected members of the armed underground and two law enforcers, all in Ingushetia.
Attacks on law enforcers
At about 6:00 p.m. Moscow time of November 5, a group of militants attacked a block post of the road-and-patrol service (known as DPS) near the Yandare village in the Nazran District of Ingushetia. One suspect committed a suicide bombing inside the room of the DPS block post, while the others initiated an armed clash with law enforcers. In the course of the armed clash, two militants were killed. The counterterrorist operation (CTO) legal regime was introduced in the Nazran District. According to the National Antiterrorist Committee (NAC), two policemen were wounded and another one was killed. In total, according to sources of the TASS from the investigating bodies and medical agencies of Ingushetia, as a result of the armed incident near Yandare, four persons were hospitalized. No civilians were injured in the attack on the DPS block post. At the place of the shootout, law enforcers found weapons, ammunition, and an improvised explosive device (IED) packed with striking elements. Later, another policeman, who was injured in the attack on the DPS block post, died in the hospital.
Bombings and terror acts
On November 1, in the forest near the Yandi village in the Achkhoi-Martan District of Chechnya, a reconnaissance unit of the Ministry of Defence (MoD) found an abandoned dugout arranged by militants. When soldiers tried to examine the dugout, a manual grenade detonated. As a result of the explosion, the reconnaissance unit commander and his deputy were wounded.
Detentions
On November 3, after the Friday namaz (prayer), law enforcers detained believers of the mosques located in Omarov Street in Makhachkala, in the village of Semender, and in the village of Pervomaisk in the Khasavyurt District. 25 people were brought to the police station of Makhachkala. According to an eyewitness, policemen stopped both drivers and pedestrians near the mosque. All the people who were brought to the police stations were divided into two groups; those whose names had been earlier included in the police prevention registration lists were questioned, photographed, and set free. The people whose names had not been on the above lists were questioned for longer time: law enforcers recorded their personal data, including about their family members, and put them on the police prevention registration list. In Makhachkala, all the detainees were released on the same day.