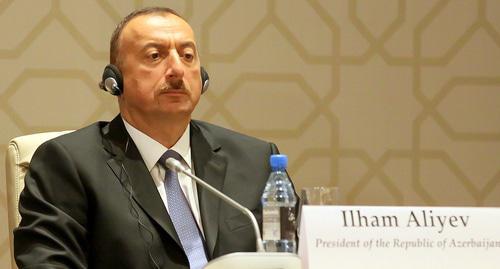 05 February 2018, 18:01
Threat of economic crisis advances presidential election in Azerbaijan
The decision to hold the presidential election in Azerbaijan six months ahead of schedule was caused by the anticipation of an economic crisis and the intention to make use of the situation in Russia, the economist Natig Djafarli and the journalist Khadija Ismayilova believe. The authorities will appear at the election in the form of the tandem of Ilham and Mekhriban Aliev, since the couple has support of the elite, the political analyst Togrul Djuvarly has noted.
Today, the incumbent President Ilham Aliev has appointed the election for April 11, without specifying the reason for the rescheduling. The opposition has noted that the authorities decided to prevent them from properly preparing their election campaign, and to simplify falsifications.
"On March 18, Russia will elect its president and attract the global attention; therefore, the Azerbaijani election will be somewhat in a shadow. The authorities believe that it will be easier for them to 'document' the needed election outcome," Natig Djafarli, the executive director of the "Republican Alternative" (ReAl), has suggested.
He has added that after election, Russia may face sanction tightening, which will affect the Azerbaijani economy.
"With the deterioration of the economic situation in Russia, the money transfers of the Azerbaijanis, who work there, to their relatives will go down; and these transfers are a serious source of income for many families," Mr Djafarli has explained.
The journalist Khadija Ismayilova doubted that any oppositional protests will prevent the re-election of the authorities' candidate.
Togrul Djuvarly, a member of the Azerbaijani National Public Committee for European Integration (ANPCEI), has noted that the opposition will not be able to make a real rivalry to the ruling power's candidate from power. According to his forecast, Aliev will gain at least 80% of the votes.
Full text of the article is available on the Russian page of 24/7 Internet agency 'Caucasian Knot'.
Author: Faik Medjid Source: CK correspondent