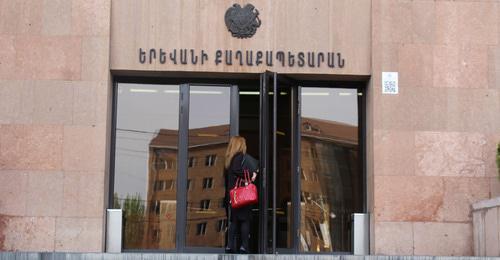 14 February 2018, 00:31
Action in defence of women held at Yerevan Mayoralty
An action against violence applied to women was a response to a brawl that occurred in the sitting hall of the Yerevan Council of Elders and a statement made by activists of the "Apricot Country" Party about the violence used by men against them.
The "Caucasian Knot" has reported that on February 12, residents of Yerevan blocked the road leading to the Nubarashen Prison and demanded to repair the prison sewer system, complaining about the unbearable stench and unsanitary conditions. On February 13, Marine Khachatryan and Sona Agekyan, activists of the "Apricot Country", trying to draw authorities' attention to the problem, brought cans with sewage water collected near the Nubarashen Prison and wanted to put them on the table of the Yerevan Mayor Taron Margaryan. However, members of the ruling Republican Party of Armenia (RPA) blocked their way, and then forced them out of the hall. According to Ms Khachatryan, she was hit several times on her head.
On the same day, supporters of the "Apricot Country" Party and advocates of women's rights came with a protest to the Yerevan Mayoralty. They demanded that the members of the Council of Elders of Yerevan, who used force against their oppositional colleagues, be brought to justice, the "Caucasian Knot" correspondent reports.
According to organizers, about two dozen people took part in the spontaneous action. The activists held posters: "You've turned the country into a stench!" and "Violence breeds violence!", and chanted "Shame!" and "No to violence!" The protesters whistled off everyone who was coming out of the Mayoralty.
Full text of the article is available on the Russian page of 24/7 Internet agency 'Caucasian Knot'.
Author: Tigran Petrosyan Source: CK correspondent