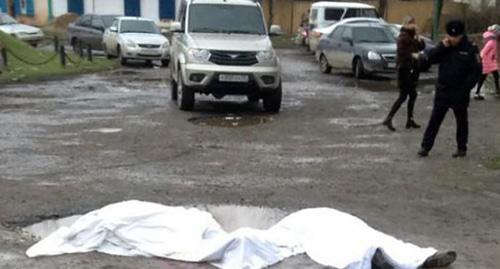 19 February 2018, 08:59
Honoured Doctor and Chair of War Veteran Council fell victim to Kizlyar shooter
Lyudmila Scherbakova, Honoured Doctor of Dagestan, Vera Morgunova, Chair of the War Veteran Council for the Kizlyar District, appeared to be among the people who fell victims to an attack on believers which occurred in Kizlyar on February 18.
The "Caucasian Knot" has reported that on February 18, a man opened fire from a rifle at people near an Orthodox church in Kizlyar. Five people were killed, and four others, including policeman Magomed Ramazanov and Sultan Vizoriev, a fighter of the National Guard of Russia, were brought to hospital. The attacker, Khalil Khalilov, a 22-year-old resident of the Rassvet village of the Tarumovsky District, was killed by law enforcers.
The death toll included Lyudmila Scherbakova, Honoured Doctor of Dagestan, who devoted more than 40 years to her work, the TASS reports with reference to the administration of Kizlyar.
The attacker also killed Vera Morgunova, the chair of the Council of war veterans and workers of the rear and labour veterans of the Kizlyar District, the "Vesti.ru" reports.
Earlier, in the attack on Kizlyar of the militants led by Salman Raduev, Vera Morgunova with two other city residents saved a wounded man, who was lying on a street under fire, the "Kommersant" reports.