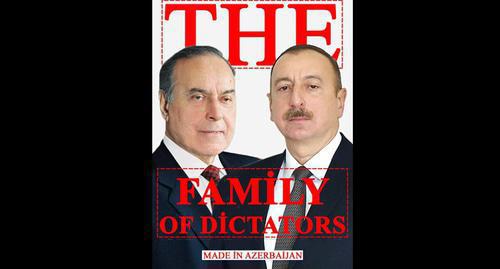 02 April 2018, 03:57
Azerbaijani authorities respond to flash mob "Let's Talk About Dictator" with persecution of dissidents
Activists who migrated to Europe have claimed a new wave of pressure on relatives in Azerbaijan after the flash mob "Let's Talk About Dictator". Meanwhile, the Azerbaijani opposition was sceptical about the flash mob.
The campaign "Let's Talk About Dictator" began after the presidential election in Azerbaijan had been scheduled and Ilham Aliev, the current leader of the state, had been nominated as a presidential candidate. This was told to the "Caucasian Knot" correspondent by Tural Sadygly, one of the initiators of the flash mob, and activist living in Germany. According to him, the campaigners disseminate the posters with the inscription: "The Dictator of Azerbaijan" and the portraits of Ilham Aliev.
"We believe that the dictatorial regime has been in power in Azerbaijan for 25 years. Ilham Aliev runs for the presidency for the fourth time to rule the country for other seven years. This is taking place against the backdrop of total corruption and massive violations of human rights," Tural Sadygly said.
According to him, his father and brother were detained after the flash mob.
Activist Muhammad Mirzali also claimed persecution of his relatives because of his criticism of the Azerbaijani authorities on the Facebook page "Made in Azerbaijan".
Ogtai Gyulyalyev, the head of the Public Alliance "Azerbaijan without Political Prisoners", has added that activists are being declared "enemies of the people."
According to Bakhtiyar Gadjiev, the head of the Public Policy Institute, such actions help people get rid of fear of the authorities.
However, Natiq Jafarli, the executive secretary of the movement "Republican Alternative" (ReAl), believes it is impossible to influence a large part of society by dissemination of posters, since everyone thinks only of urgent economic and social problems.
Full text of the article is available on the Russian page of 24/7 Internet agency 'Caucasian Knot'.
Author: Faik Medjid Source: CK correspondent