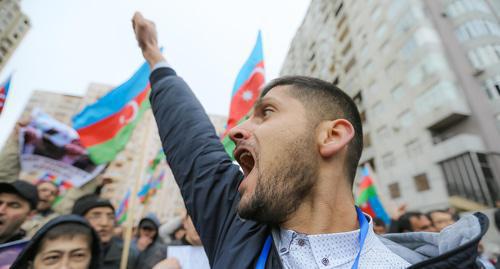 14 April 2018, 15:41
Azerbaijan: about 1500 people come to protest against outcomes of presidential election
In Baku, at the stadium of the Yasamal District sports complex, the opposition is holding a rally against the results of the early presidential election.
The "Caucasian Knot" has reported that according to the Central Election Commission (CEC) of Azerbaijan, after the information from all polling stations had been processed, the Ilham Aliev's result at the early presidential election reached 86.3% of the votes. The opposition called the election to be illegitimate.
The action sanctioned by the city authorities was organized by the National Council of Democratic Forces (NCDF), the Popular Front Party of Azerbaijan (PFPA), and the "Musavat" Party, which boycotted the presidential election and declared they would not recognize the election outcome.
The rally began at 3:20 p.m. local time, and about 1500 protesters gathered at the stadium. In their hands, they are holding posters with slogans reading: "I did not choose you", as well as portraits of political prisoners and flags of Azerbaijan and the EU, the "Caucasian Knot" correspondent reports from the place of the rally.
The action takes place during rainy windy weather. In connection with the rally, the security measures have been enhanced. Police forces are concentrated around the stadium, and buses with policemen are also waiting in the nearby yards.
Full text of the article is available on the Russian page of 24/7 Internet agency 'Caucasian Knot'.
Author: Faik Medzhid Source: CK correspondent