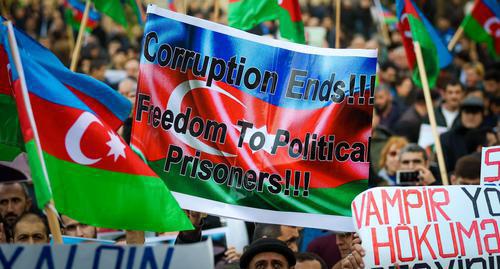 18 May 2018, 14:08
More than 500 people may be pardoned in Azerbaijan
The commission for pardoning has considered 1100 appeals and prepared for the Azerbaijani President a list of 500 names. The amnesty is expected to be dated to the Republic Day, May 28.
The "Caucasian Knot" has reported that in March, rights defenders expressed their regret about no traditional pardon on the occasion of Novruz Bayram this year. The commission for pardoning announced they did not have time enough to consider all appeals.
When considering appeals, the commission for pardoning took into account nature of a crime, served term of the punishment, compensation of damage inflicted to a victim, and position of the victims, noted Alimamed Nuriev, a member of the commission for pardoning, the head of the "Constitution" Research Centre.
"The President personally decides when and whom to pardon," Alimamed Nuriev emphasized.
The President can pardon 10-15 political prisoners, believes Samir Kazymly, a member of the working group on drawing up the list of political prisoners.
"According to our lists, there are more than 140 political prisoners in the country. It is naive to believe that they will be released. However, we hope for release of some of those who spent in prison four or five years already. Among them there are Ilgar Mamedov, the leader of the 'Republican Alternative' (ReAl) Party, Ilkin Rustamzade, an activist of the movement 'Nida', and journalist Seimur Khazi. It would be reasonable to release journalist Afghan Mukhtarly. All those cases provoked international criticism of Azerbaijan," Samir Kazymly noted.
Ogtai Gyulyalyev, a coordinator of the Centre for the Protection of Political Prisoners, expresses less optimistic expectations concerning the amnesty. "At best, 5-10 people may be released, including well-known political prisoners and several other persons whose sentences are close to completion," he said.
It should be noted that the Azerbaijani authorities reject the fact there are political prisoners in the country.
Full text of the article is available on the Russian page of 24/7 Internet agency 'Caucasian Knot'.
Author: Faik Medjid Source: CK correspondent