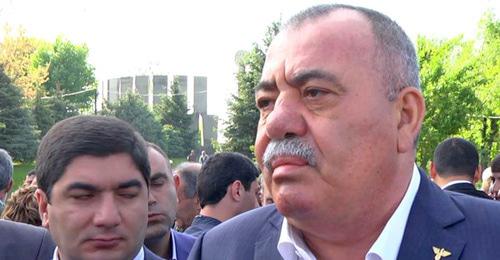 18 June 2018, 17:42
RPA criticizes General Manvel Grigoryan after his exposure
The Special Investigative Service (SIS) of Armenia instituted a new criminal case against MP Manvel Grigoryan, a delegate from the Republic Party of Armenia (RPA), the "Caucasian Knot" correspondent reports. RPA stated that Manvel Grigoryan should be held responsible under all the severity of the law.
The "Caucasian Knot" has reported that on June 16, retired General Manvel Grigoryan, an MP from the Republican Party of Armenia (RPA), was detained on suspicion of illicit arms trafficking. On June 17, Prime Minister Nikol Pashinyan announced that the Manvel Grigoryan's detention is also connected with the theft of humanitarian aid intended for soldiers and officers.
According to the National Security Service of Armenia, during the search of the Manvel Grigoryan's places, law enforcers discovered 79 rifles, 39 pistols, anti-tank mines, hand grenades, rounds and other ammunition, dozens of cars, motorcycles, and snowmobiles, as well as vehicles donated to the Nagorno-Karabakh Defence Army by members of the Armenian community of Russia during the aggravation of the Karabakh conflict in April 2016.
According to the Armenian SIS, the criminal case was instituted under Paragraph 1, Part 3 of Article 179 of the Criminal Code of Armenia (Misappropriation or embezzlement, that is, theft of other people's property entrusted to a culprit in especially large amounts).
Today, the RPA has disseminated a statement in connection with unmasking Manvel Grigoryan and findings in his house. The RPA states that "it is hard to believe in the reality of what is happening."
"We are shocked that such things can be afforded at all. And we are especially outraged by the fact that such acts were committed by the General who actively participated in the Karabakh war. This is unacceptable and disgusting," the RPA declares in its statement.
The RPA has also mentioned the presumption of innocence and stated that "if the charge brought against Manvel Grigoryan is confirmed, he will be held responsible under all the severity of the law, regardless of his merits, office position and party affiliation."
Full text of the article is available on the Russian page of 24/7 Internet agency 'Caucasian Knot'.
Author: Armine Martirosyan, Tigran Petrosyan Source: CK correspondents