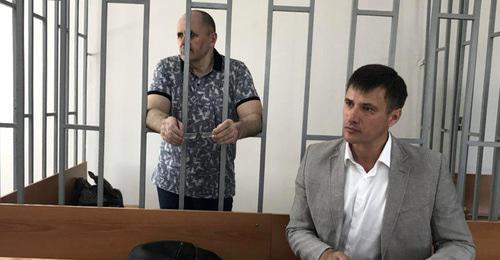 17 July 2018, 08:19
Chechen TV shows accusatory story about Titiev two days before the trial
The main prosecution witness in Oyub Titiev's case, a drug addict himself, appeared on the air of a Chechen TV channel. However, local residents assert that the story with accusations against Titiev and his colleagues from the Human Rights Centre (HRC) "Memorial" was unconvincing.
The "Caucasian Knot" has reported that the Shali District Court appointed the first session for considering the case on the merits for July 18.
The unmasking "special report" about human rights defenders was put on air by the "Grozny" State TV and Radio Company late in the evening on July 15; it was shown in the final news release. The rights defenders' work was called an "information war against Chechnya." The author of the footage claimed that rights defenders "are trying to raise their rating" by mentioning Chechnya.
In the report, a certain person named Baskhanov commented on Titiev's case, assuring that he saw a smoking man standing between the houses. "I smelled anasha ... I used it myself, I have a conviction for it, so I know this smell," said the man who is the main prosecution witness.
The new "special report" of Chechen TV about Titiev, like the previous ones, is unconvincing, Abubakar, a local observer, has noted.
"I saw a part of this so-called 'special report'. To be honest, I just couldn't watch it to the end: it's full of insinuations, far-fetched accusation; it was just unpleasant to watch it. Everybody knows that Oyub Titiev's case is fabricated; it is trumped up. Nevertheless, our authorities are trying, with enviable persistence, to impose a different opinion on the public," Abubakar told the "Caucasian Knot" correspondent.
This article was originally published on the Russian page of 24/7 Internet agency 'Caucasian Knot' on July 16, 2018 at 07:56 pm MSK. To access the full text of the article, click here.
Source: CK correspondent