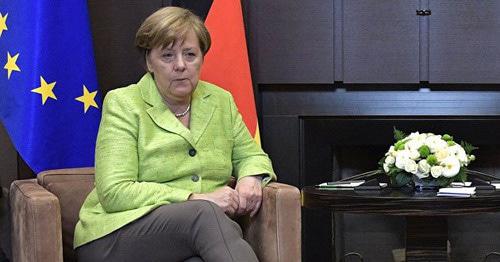 21 August 2018, 21:34
Azerbaijan denies entry to Angela Merkel's delegation member
The Azerbaijani authorities have banned the entry into the country of Alberto Wailer, a member of the delegation of the German Chancellor Angela Merkel, for his visit to Nagorno-Karabakh. Baku is ready to reconsider this decision, if the MP apologizes, the Azerbaijani Ministry of Foreign Affairs (MFA) has stated.
Albert Weiler, a Bundestag MP from the Christian Democratic Union Party, is a deputy chairman of the parliamentary group for the relations of Germany with the countries of Southern Caucasus. He was to accompany Ms Merkel on August 24 in her trip to Georgia, Armenia and Azerbaijan.
Mr Weiler has twice visited Nagorno-Karabakh. Negotiations with the Azerbaijani Ambassador to Germany to allow him to enter the country were fruitless, writes the newspaper Bild.
"Azerbaijan is pleased to present itself as a democracy; however, these actions against a democratically elected MP have nothing to do with democracy," the Bild quotes Weiler as saying.
The list of undesirable persons was published by the Azerbaijani MFA in 2013. It includes the foreigners who are prohibited from entering the country because of their visits to the territory of Nagorno-Karabakh without agreements with Baku. On September 22, 2017, three US congressmen were put on this Azerbaijani "black list".
Albert Weiler was declared persona non grata in 2014, Khikmet Gadjiev, the spokesman of the Azerbaijani MFA, told the "Caucasian Knot" correspondent, stressing that foreign citizens should respect the territorial integrity and sovereignty of other countries.
This article was originally published on the Russian page of 24/7 Internet agency 'Caucasian Knot' on August 21, 2018 at 05:43 pm MSK. To access the full text of the article, click here.
Author: Faik Medjid Source: CK correspondent