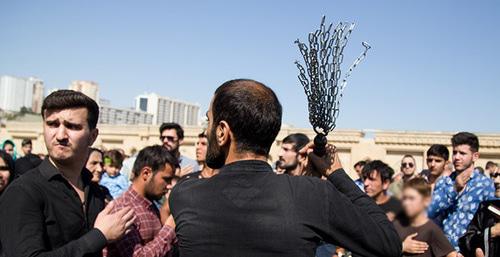 20 September 2018, 23:39
Over 5000 in Azerbaijan donate blood on the occasion of Ashura
Today, in Azerbaijan, in the course of donor actions on the occasion of the Ashura Day, which is respected by Shiite Muslims, they donated over 2000 litres of blood. Religious ceremonies were held under increased security measures.
The "Caucasian Knot" has reported that last year, the Council of Kadis of the Spiritual Administration Muslims (SAM) of the Caucasus invited believers to donate blood instead of self-flagellation on the Ashura Day.
This year, the Ashura Day fell on September 20. Reinforced police outfits were concentrated around mosques.
About 4000 believers gathered near the "Mashadi Dadash" mosque. The young people, who were beating themselves with chains made from clerical clips, were immediately led outside the mosque.
According to the press service of the Ministry of Public Health, the collected blood will be used to treat patients and produce medicines.
On the eve of the Ashura Day, Talekh Bagirzade, the leader of the "Muslim Unity" movement, addressed believers from the Gobustan Prison: he urged young people to refrain from self-torture.
"The essence of this day is in the struggle for justice, and resistance to evil," says his appeal. Talekh has noted that "Imam Hussein's school is not only the struggle, but also a promotion to free thinking, a call for knowledge."
This article was originally published on the Russian page of 24/7 Internet agency 'Caucasian Knot' on September 20, 2018 at 06:50 pm MSK. To access the full text of the article, click here.
Author: Faik Medjid Source: CK correspondent