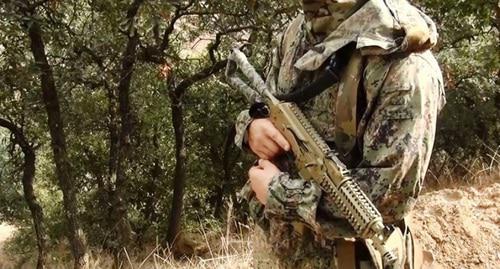 21 September 2018, 21:45
Residents of Chechnya and Ingushetia doubt special operation held on the border
Movsar Aleroev, a Chechen from the Ingush village of Psedakh, who was among the three alleged militants, killed on the Chechen-Ingush border, was not known for his ties with the underground. The unconvincing law enforcers' version gives rise to speculation about the falsification of the special operation, residents of the two republics have suggested.
The "Caucasian Knot" has reported that on September 16, law enforcers shot and killed three militants in the Achkhoi-Martan District of Chechnya at the border with Ingushetia. On September 18, policemen began searching for the casualties' accomplices, but no one else was found.
According to the Telegram-channel named "Siloviki" (Law Enforcers), the casualties were identified as Anatoly Khadjiev, 35, a KBR resident; Osmandjon Kochkarov, 32, a native of Kyrgyzstan; and Movsar Aleroev, 26, a resident of Ingushetia. They had planned to commit a terror act in Chechnya, law enforcers have suggested.
Law enforcers have no data about any links of the ethnic Chechen Movsar Aleroev with two other killed militants, who took part in warfare in Syria, the republic's Ministry of Internal Affairs (MIA) has reported. Since June, he was on the wanted list as a missing person.
Residents of the Malgobek District, where Aleroev lived, do not believe in his links with militants, said Ruslan, a local resident.
Aleroev had worked at construction sites, and disappeared when he went to contract some work, sources said.
In the opinion of Magomed, a local observer, the three killed men could have been detained separately and for some time were kept in custody, after which they were announced to be the murdered terrorists.
This article was originally published on the Russian page of 24/7 Internet agency 'Caucasian Knot' on September 21, 2018 at 07:40 pm MSK. To access the full text of the article, click here.
Source: CK correspondent