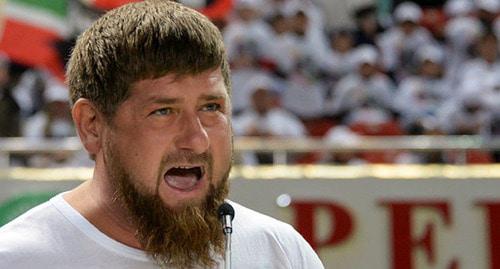 04 October 2018, 22:25
Kadyrov's words about war cause resonance among residents of Ingushetia
The appeal of the Chechen leader to Chechens and Ingushes that it "suits them to fight" was perceived by some residents of Ingushetia as a threat of using force against opponents of the land exchange. In Chechnya, these words were interpreted differently, without an emphasis on power actions.
The "Caucasian Knot" has reported that on September 26, Ramzan Kadyrov and Yunus-Bek Evkurov signed an agreement on fixing the Chechen-Ingush border. Kadyrov demanded from opponents of the agreement "not to create problems for themselves." These threats failed to restrain protests; and today residents of Ingushetia have held mass actions against the land transfer.
"We have no claims to Chechens, but we have them to the head of Chechnya, who should understand that he had challenged all Ingushes," said Zelimkhan, an Ingush activist.
Isabella Evloeva, an Ingush journalist, has regarded Kadyrov's words as a clear-cut threat. "The head of Chechnya threatens with executions not only 'his own' opponents, but also residents of the neighbouring republic," she wrote in her Facebook.
Kadyrov's rhetoric will not lead to a territorial conflict; however, interethnic relations may worsen, another Ingush activist believes.
Saslanbek Isaev, a Chechen journalist, believes that Kadyrov's statement "does not apply to Ingushes in general, but is addressed to those who express provocative ideas."
In the context of Kadyrov's statement, the phrase about the war was addressed to those who address their insulting words to Chechen authorities and people, a Chechen historian has added.
This article was originally published on the Russian page of 24/7 Internet agency 'Caucasian Knot' on October 4, 2018 at 07:29 pm MSK. To access the full text of the article, click here.
Author: Magomed Tuaev Source: CK correspondent