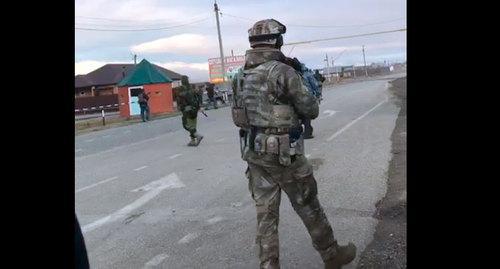 18 November 2018, 08:40
Chechnya: explosion of suicide bomber was third terror act in the region since start of year
On Saturday, near the checkpoint in the outskirt of Grozny, an explosion occurred. In 2018, it was preceded by two other terror acts committed in Chechnya. The responsibility for the both earlier incidents was claimed by the "Islamic State" (IS), a terrorist organization banned in Russia by the court.
According to the Ministry of Internal Affairs (MIA), in the Staropromyslovsky District of Grozny, near the checkpoint, a woman committed a suicide bombing. Fortunately, nobody was hurt.
Earlier, on August 20, two men attacked a police station in the Shali District with knives; they wounded two policemen and were shot dead. Another man blew himself up at the road-and-patrol service (known as DPS) post in the village of Mesker-Yurt; policemen did not suffer. In the same morning, in Grozny, law enforcers killed a car driver, who knocked down three policemen. The child that was in the car perished too. The responsibility for the above series of attacks was claimed by the IS.
On May 19, 2018, militants attacked the Church of Archangel Michael in Grozny. Two policemen, four militants and one parishioner perished; two other policemen were wounded. According to the MIA, three out of four killed militants were residents of Chechnya; the attackers' leader lived in the neighbouring district. The responsibility for the attack was also claimed by the IS Caucasian branch.
According to the chronicle of the "Caucasian Knot", the last previous self-explosion of a woman occurred in October 2013 in a bus in Volgograd. According to investigators, the suicide bombing was committed by a self-detonation was made by Naida Asiyalova, a 30-year-old native of Dagestan.
This article was originally published on the Russian page of 24/7 Internet agency 'Caucasian Knot' on November 16, 2018 at 06:19 am MSK. To access the full text of the article, click here.