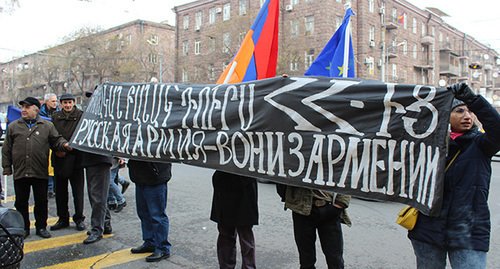 25 December 2018, 23:59
Activists in Yerevan demand withdrawal of Russian military base
The participants of the action held at the Russian Embassy to Armenia in Yerevan have demanded to remove the Russian military base from Gyumri, investigate the murder of Djulietta Gukasyan by a Russian soldier and revise the relations with Russia.
The "Caucasian Knot" has reported that the 57-year-old Djulietta Gukasyan died in hospital after being beaten up on December 3. After the murder, the Russian military serviceman was detained. Representatives of the Gukasyan family demanded that he be handed over to Armenia.
The participants of the action stretched out a poster reading "Russian army, get out of Armenia!" and stated that the 102nd military base of the Russian Federation in Gyumri "threatens the security of Armenian citizens."
Activists have recalled the massacre of the Avetisyan family by the Russian soldier Valery Permyakov in 2015. The Armenian society has failed to receive guarantees that such cases would not repeat, the protesters have noted.
People have been injected a stereotype that Armenia cannot exist without Russia, Narine Mkrtchyan, the head of the National Press Club, has noted. According to her story, both the former and current authorities neglect the country's interests to please Russia.
After the departure of the opponents of the Russian military base, a group of communists came up to the Russian Embassy. They held their action under the slogans of "No to anti-Russian provocations in Armenia!" and "Forever with Russia!"
In their statement, they expressed their concern about the "intensification of anti-Russian sentiments and unjustified accusations of the strategic ally of number one in the Armenian society."
This article was originally published on the Russian page of 24/7 Internet agency 'Caucasian Knot' on December 25, 2018 at 07:46 pm MSK. To access the full text of the article, click here.
Author: Armine Martirosyan Source: CK correspondent