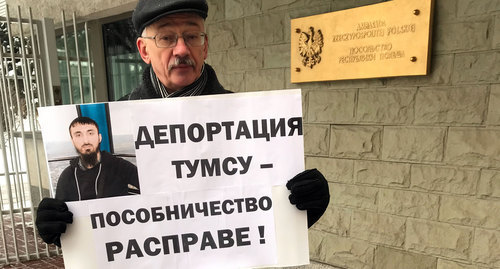 28 December 2018, 20:01
Moscow hosts pickets against deportation of Chechen blogger Tumso Abdurakhmanov
In Moscow, rights defenders have held three solo pickets near the Embassy of Poland. The protestors have stated that the return of Chechen blogger Tumso Abdurakhmanov to Russia threatens his life.
The "Caucasian Knot" has reported that Tumso Abdurakhmanov, wanted in Russia, tried to seek asylum in Georgia and Poland. According to the Chechen law enforcement bodies, Tumso Abdurakhmanov was involved in militant groupings in Syria. On September 27, he said that the authorities of Poland had refused to grant him asylum.
According to Tumso Abdurakhmanov, he lived in Georgia since November 2015. He mentioned his conflict with a top-ranking relative of the Chechen leader as the reason for his persecution in Russia.
The protest action involved Oleg Orlov, the head of the "Hot Points" programme of the Human Rights Centre (HRC) "Memorial", Vladimir Malykhin, a member of the HRC "Memorial", and Svetlana Gannushkina, the head of the "Civic Assistance" Committee.
"Already in January, Tumso Abdurakhmanov can be expelled to Russia. Of course, the expulsion would mean for him at least torture and mockery, and I do not rule out an extrajudicial execution," Oleg Orlov said.
Svetlana Gannushkina has stated it is possible that Tumso Abdurakhmanov will disappear after his return to Russia.
Vladimir Malykhin has also noted that the fate of Tumso Abdurakhmanov after his return to Russia could be tragic.
This article was originally published on the Russian page of 24/7 Internet agency 'Caucasian Knot' on December 28, 2018 at 01:21 pm MSK. To access the full text of the article, click here.
Author: Oleg Krasnov Source: CK correspondent