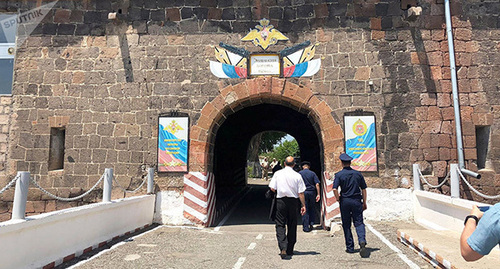 01 January 2019, 21:00
A daughter of a woman murdered in Gyumri demands to disclose details of investigation
Almost a month after the murder of Julietta Gukasyan, a resident of Gyumri, her relatives still know nothing about the motives of the crime and the investigation progress, said Asmik Gukasyan, a daughter of the murdered woman. According to her, a detained Russian soldier should be handed over to the Armenian side.
The "Caucasian Knot" has reported that at night on December 3, 2018, Julietta Gukasyan, a 57-year-old resident of Gyumri, was beaten and died in hospital. After the murder, a Russian soldier was detained. He faces up to 10 years of imprisonment. The Armenian side has handed over the defendant to the Russian side, and he is being kept under arrest at the 102nd military base.
Asmik Gukasyan, a daughter of the murdered woman, said that she had not yet received any information about the investigation progress from the police, the Investigating Committee, or the Prosecutor's Office. "I don't know what they are doing. I want to know the name, surname, and rank of the detained Russian soldier. Do I have the right to know who exactly is accused of killing my mother? I'm not satisfied with the work of the law enforcement bodies. I demand from investigators to report some information to me," Asmik Gukasyan told the "Caucasian Knot" correspondent.
According to her, if the defendant were kept by the Armenian side, more information would be reported about the case.
This article was originally published on the Russian page of 24/7 Internet agency 'Caucasian Knot' on January 1, 2019 at 12:39 pm MSK. To access the full text of the article, click here.
Author: Gor Aleksanyan Source: CK correspondent