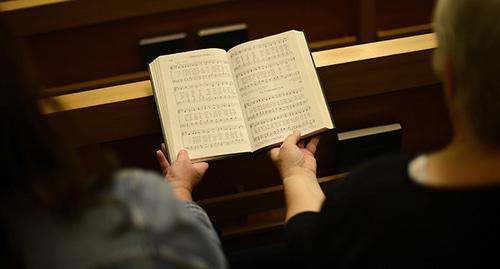 16 March 2019, 10:34
Two Mormons condemned in Kuban for missionary outreach among passersby
The court has ruled to fine David Gaag and Cole Brodovsky, American missionaries, and deport them from Russia. They refused to plead guilty of handing out leaflets in the streets in Novorossiysk, but refused to appeal against the judgement.
The "Caucasian Knot" has reported that on March 2, a court in Novorossiysk, and then the territorial court, decided to deport David Udo Gaag and Cole Davis Brodovsky, the followers of the Church of Jesus Christ of Latter-day Saints. Their defence and believers fear that their case may indicate the start of persecuting Mormons in Russia.
The Gulkevichi District Court of the Krasnodar Territory (also named Kuban after the main river) found Cole Brodovsky and David Gaag guilty under the administrative article "Performing missionary activities by a foreign citizen". Under the ruling passed on March 15, they have to pay a fine of 30,000 roubles each and leave Russia.
The ruling says that the Mormons were spreading religious brochures and booklets in the street of Novorossiysk. American citizens themselves denied this at the trial, stating that they did not know the people who testified against them.
The Mormons will not appeal against the ruling of the above district court, said Yuri Kozhokin, the representative of The Church of Jesus Christ of Latter-day Saints in Russia.
"As far as we understand from their words, they carried no missionary activities in the streets. It seems to us that these allegations are not based on facts. But we don't plan to appeal against the ruling, because we just want them to leave the territory of the Russian Federation as soon as possible," the TASS quotes Mr Kozhokin as saying.
This article was originally published on the Russian page of 24/7 Internet agency 'Caucasian Knot' on March 16, 2019 at 07:17 am MSK. To access the full text of the article, click here.