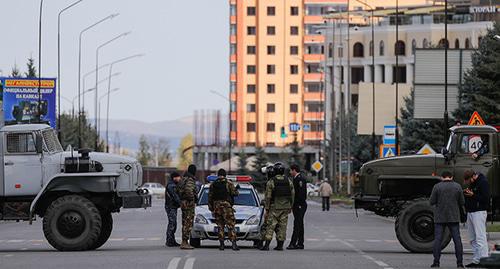 30 March 2019, 01:13
Columns of military equipment disturb residents of Ingushetia
On March 29, columns of military equipment and large groups of law enforcers appeared in the cities of Nazran and Magas. Authorities seek to intimidate protesters on the eve of a new rally, users of social networks assert.
The "Caucasian Knot" has reported that on March 26, residents of Ingushetia, demanding the resignation of Yunus-Bek Evkurov, extended the protest action in the square in Magas without sanction from the authorities and that led to clashes with law enforcers on the other day. After the authorities promised to sanction a new rally in five days, the protest leaders persuaded their supporters to leave the square.
During the day, there was no increased activity of law officials in Nazran and its environs; the streets of the city were patrolled as usual.
However, at about 7:00 p.m. Moscow time, a column of Ural and UAZ military vehicles appeared in Chechenskaya Street near the "Fabrika" marketplace. As of 7:39 p.m. Moscow time, a convoy of heavy trucks and armoured personnel carriers (APCs) was parked near the old bus station in Nazran, the "Caucasian Knot" correspondent reported from the venue.
Social networks users report about accumulation of law enforcers and military equipment in Nazran and Magas. A large column of military vehicles – APCs, UAZ vehicles and trucks with uniformed law enforcers inside can be seen in the video posted by the themagastimes community on the Instagram.
Social networks users suggest that the authorities seek to intimidate protesters.
"Too many for the small Ingushetia," the user m.malsagov.v wrote under the video. "They want to scare by numbers. But we are stronger in spirit," said brat0606.
"It looks like they are preparing for a war against unarmed people," the user marem.007 has noted. "Well, what were they hoping for? They hoped that the federal centre would just so easily yield to demands!?" the user _soul__melody_ has asked.
This article was originally published on the Russian page of 24/7 Internet agency 'Caucasian Knot' on March 29, 2019 at 09:19 pm MSK. To access the full text of the article, click here.
Author: Umar Yovloi Source: CK correspondent